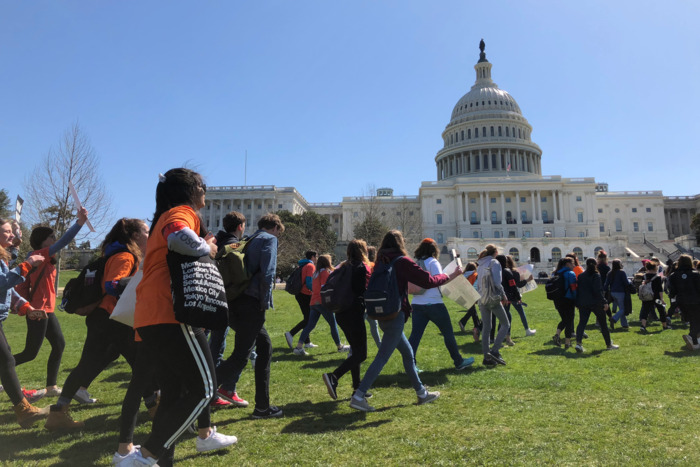 Grandmothers, Mothers and Women (GMW) I get my strength from: 1 John 4:4;  For He who is in me is greater than he who is in the world." In the world in general and America in particular. My prayer today is for each of us to pick-up the Power of: 'Our God and Our Love,' and use it in our homes, communities, Cities and States to help bring Bi partition Leadership to our country, to Washington in particular, to the three (3) major branches of Power, "The Executive Branch, The House and Senate. They have become  an embarrassment to us.
My Generation is the Baby Boomers, we did a lot of good, but balanced it out with some bad behavior; which is now being exemplified by the Current Administration in Washington.
In the Upcoming Midterm Elections, Its a joy to see so many Millennials, men and women stepping up saying; " enough is enough." They are winning primaries and positioning themselves to bring change, stability, diplomacy, integrity and decency back to Washington.  This is where our God and Love Comes into play. We must convey the importance of the upcoming election, starting at home, stressing the point: Your Vote is your voice. 'Use it for change, or stay home for more of the same.
Each of us has a responsibility for how our, communities, cities and states serve us. Our vote is so important, Until many people lost their lives fighting for the right to vote. That's how priceless the vote is, and it should never be taken for granted:
<!– /* Font Definitions */ @font-face {font-family:"Cambria Math"; panose-1:2 4 5 3 5 4 6 3 2 4; mso-font-charset:0; mso-generic-font-family:roman; mso-font-pitch:variable; mso-font-signature:-536869121 1107305727 33554432 0 415 0;} @font-face {font-family:Calibri; panose-1:2 15 5 2 2 2 4 3 2 4; mso-font-charset:0; mso-generic-font-family:swiss; mso-font-pitch:variable; mso-font-signature:-536859905 -1073732485 9 0 511 0;} /* Style Definitions */ p.MsoNormal, li.MsoNormal, div.MsoNormal {mso-style-unhide:no; mso-style-qformat:yes; mso-style-parent:""; margin-top:0in; margin-right:0in; margin-bottom:10.0pt; margin-left:0in; line-height:115%; mso-pagination:widow-orphan; font-size:11.0pt; font-family:"Calibri","sans-serif"; mso-ascii-font-family:Calibri; mso-ascii-theme-font:minor-latin; mso-fareast-font-family:Calibri; mso-fareast-theme-font:minor-latin; mso-hansi-font-family:Calibri; mso-hansi-theme-font:minor-latin; mso-bidi-font-family:"Times New Roman"; mso-bidi-theme-font:minor-bidi;} .MsoChpDefault {mso-style-type:export-only; mso-default-props:yes; mso-ascii-font-family:Calibri; mso-ascii-theme-font:minor-latin; mso-fareast-font-family:Calibri; mso-fareast-theme-font:minor-latin; mso-hansi-font-family:Calibri; mso-hansi-theme-font:minor-latin; mso-bidi-font-family:"Times New Roman"; mso-bidi-theme-font:minor-bidi;} .MsoPapDefault {mso-style-type:export-only; margin-bottom:10.0pt; line-height:115%;} @page WordSection1 {size:8.5in 11.0in; margin:1.0in 1.0in 1.0in 1.0in; mso-header-margin:.5in; mso-footer-margin:.5in; mso-paper-source:0;} div.WordSection1 {page:WordSection1;} –>