Children In Adult Jails:  Treating young offenders like grown-ups makes little sense.  
GMW: While our leaders in Washington are putting on a Circus for the world at ours and our children's expense, we have some pressing issues that must be address in 2018 before November 6th.
The 1st issue of importance is Prison Reforms: Children in adult jails
We will start with Prison Reform: Looking at 2 cases for example. 15 years old Nicholas Blount, tried as an adult; pleaded innocent went to trial. 16 years old, Kiaun R. Bray, tried as an adult and plea bargained.
GMW its time we put a price tag on our Dollars and Votes in 2018, for the sake of our children. If candidates wants our votes, they have to address our issues. We would like to coalition  with the Equal Justice Initiative (EJI) and The Children's Defense Fund; organizations doing exceptional  work in prison Reform.
People of color we must become more proactive in making sure we're in Jury selection Pools, I think the jurors should reflect the landscape.  I'm a little tired of seeing all white faces dispensing justice and everyone else in the courtroom receiving the results, is of color.
According to the Wall Street Journal  a few years ago. The House Judiciary Committee introduced five bills in a bipartisan effort to reform America's criminal-justice system.  With incarceration rates in the U.S. five to 10 times higher than in Western Europe and other democracies, the bills aim was to provide sensible reforms such as rewriting mandatory-sentencing statutes. Yet none directly addresses plea bargaining, a practice that induces too many defendants to plead guilty to avoid what has come to be known as the trial penalty.

The practice of charging young people as adults gained momentum in America in the 1990s, as youth crime spiked and adults attention was weaning from their children to social media.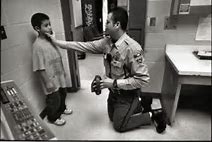 Consider the case of Nicholas Blount, who was 15 when he robbed a party with (2) 18 year old gang members.  His older accomplice plea bargained and got much lighter sentence of 10 to 13 years.
Blount felt he was innocent of some charges, and opted for trial hoping for justice. He got 6 life sentences plus 118 years.
Travion Blount was  serving one of the harshest punishments delivered to any American teenager for a crime not involving murder. Governor McDonnell  shortened his time to 40 years before he left office;  and thank God Terry McAuliffe, pardon him before leaving office.
Now look at the case of Kjaun Rahmein Bray. He was 16 August, 2000 when the offense occurred, his accomplish was a 16 year old male, who testified against him and has been out of prison for several years. they both plea bargained and were tried as Adults.
Mr. Bray was convicted upon his Plea of Guilty to Malicious Wounding, two counts of abduction, Carjacking, Use of Firearm in the Commission of  Felony and two counts of Robbery and sentenced to terms totaling, 28 years and 7 months, on March 16, 2001.
Mr. Bray, still has 8 years to serve. I just finish reading his response to the question brought to him of: "What do you think men in my position need if they were to be released from prison, not just from us who are incarcerated but for the ones who are also re-entering back into society.'
Mr. Bray Titled his response: CHANGE THE MIND CHANGE THE MAN. My blueprint for a positive transition into society. It was a fantastic read. I'm going to try and get it published on his behalf.
We are not suggesting juveniles are not punish for their crimes, they are not adults. We haven't finish raising them, and they are incapable of making adult decisions and should not be tried as adults.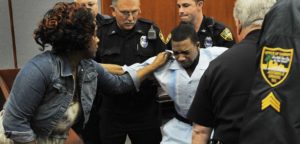 America is the only country in the world that sentence their children to death.
In Jesus' Name I'm praying for changes