Joe Manchin and Kristen Sinema: Your systemic racism is creating a major problem for Our Base…The future of our children, country and party.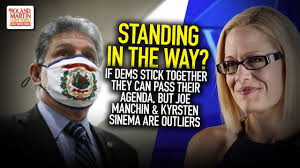 It would be nice if you would, "take a page from the GOP on party loyalty." At least your party is fighting for our constitutional rights and democracy
I. What's are you standing for; Because, what you are doing makes no sense to us: Grandmothers, mothers and women of color, and Americans of color. It would have been nice had you run for office on the GOP ticket, then we would known what party you're with. You are exhibiting the behavior that gave birth to critical race theory. Voting rights , justice reform and the people's Act, would not be necessary, if it were not for Systemic racism in OUR COUNTRY, Now my white brothers and sisters are so ashamed of Slavery, until they would like to thing it never happen, because of their Christians values. But it's our history,And inquiring minds want to know about it.

?We will continue to pray for a United Democratic Party?