GMW, The 2nd amendments  to the United States Constitution protects the right of the people to keep and bear arms was adopted on December 15, 1791, as part of the first ten amendments contained in the Bill of rights. The weapons of 1791.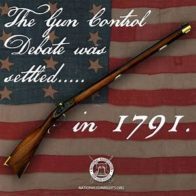 It's states A well regulated militia, being necessary to the security of a free state, the right of the people to keep and bear arms, shall not be infringed.
The 2nd amendment only applied to muskets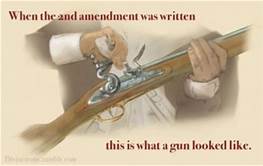 GMW (grandmothers, mothers and women) The AR15's are Assault Weapons of the 21st Century, how is it they are protected by the 2nd amendment rights.
GMW, we are no longer asking  why we are losing so many of our babies and adults to the violence of gun in general, and Assaults weapons, AR15 in particular.

For our politicians, who are in the pockets of the NRA, we'll leave them there, but we are going to get them out of Washington. For every GMW who's sick and tired of the gun violence, do something about it. Use the power of your Vote and Dollars November 6, 2018.
GMW, we are not helpless nor powerless,  some of us might be spineless but, we have each other's backs, and we all have access to the same power: Our God, Our Love, Our Dollars and Our Vote.
GMW isn't it sort of strange, we have not seen or heard, or I haven't  heard our President acting as leader of our country addressing the tragedy In Florida. It appears he's just happy the media is not focusing on his new Breaking News Story.
Ladies, this year we're going to make the country duplicate what happened in Va. in 2017. All 435 members of the House and 33 of the 100 in the senate is up for election in 2018.
We have an opportunity to send 468  New Politicians to Washington, who will do what we want. We need gun and prison reforms. We have more guns in our streets and people in prison than any other country in the world. We can make a difference!!!
We are going to get commonsense guns laws. Our men in the House can no longer legislate  without us and The Senate can't serves as a "check and balance". or ratifies treaties, tries impeachments, and elects the vice presidents when necessary.
They can no longer be at the tables without us, who knows how to be bipartisan with principles, integrity, decency, and values.
The sleeping giants are awake and standing. Our power is going to be speaking for us from now on, if we're serious about change.